all rights reserved ®

Biography - A Fans View
There are some things that strike you about Gazza when you first meet him. His dad, and Jimmy "Five Bellies" Gardner are two of them. Still by his side. Just like his Geordie roots, the working men's clubs, the ready embrace of anything to do with kids. Believe you me, Gazza is wonderful with kids because even at 36 he is still one himself in so many ways.

There's a story that one of the Everton players told me. Sometimes Gazza would be in training at 7:30 in the morning even though the rest wouldn't arrive till 10 a.m.and even long after the rest had steamed off in their posh motors, Gazza would still be on the pitch surrounded by anyone who wanted to play in his game. Gazza is at home wherever there is a ball, goals, and a pitch to play out his fantasies. And that's the heart of the appeal of the man. Simply someone who was born to play football, from the heart, from the soul, irrespective of the "system", the coaches and the managers who blocked his path. The last tanner ball player, the last street footballer who made it all the way.

Gazza embodies every wannabe footballers dream even if most of them only talk about it after several pints . If there's one footballer we've all dreamt of being it was Gazza.

Jimmy "5 Bellies" Gardner befriended him as a 4 year old who lived next door to his gran, a cheeky, engaging boy, always ready with a smile but with human vulnerabilities and a shape and attitude that didn't fit into the system.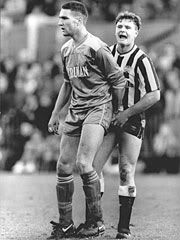 So Paul John Gascoigne, nearly ended up playing for Ipswich, nearly got kicked out of Newcastle before he even got started. And then when he did make it into the first team received an instruction in castration from Vinnie Jones.

Making Italia World Cup '90 through his own last chance saloon, Gazza confounded the "experts" who said he couldn't be trusted and took England to one kick away from a World Cup Final – as close as England have ever got since 1966 and all that.

By this time Tottenham was his club and 1991 saw a stunning FA Cup semi-final goal against arch rivals Arsenal beating David Seaman from fully 30 yards and a calamitous injury in the Final itself, albeit self-inflicted.



Lazio bought him on spec whilst injured from a bankrupt Tottenham and even though his time was one of re-habilitation and a return to fitness, in the words of Senor Cragnotti, the President of Lazio , "he put Lazio on the world map". A dramatic goal against Roma in the local derby was the icing on the cake.

Glasgow Rangers was three years of rhapsody, where Paul is fondly remembered as one of the greatest in a long line of Ibrox greats.

Then there was Euro 1996, the goal against Scotland, the dentist chair celebration, the agony of hitting the post against Germany and the penalty shoot-out (again).


Middlesboro and Everton were stopping points laced with cameos and great moments that you will hear about on these pages.

Other stopping off points have included Burnley and Gansu in China and now Al Jazira in the United Arab Emirates.

Throughout this epic voyage which is nowhere near completed, I doubt whether you will hear anyone in football say anything bad about "our" Gazza. Many a journeyman footballer has had his testimonial match graced by Gascoigne –all he had to do was ask and Gazza was there.

Now all us pub footballers would be the same, doing it because we love the the game, that the essence of Gazza isn't it?

I can guarantee you that there will never in a million years be another Paul Gascoigne, the mind control of Premiership clubs would never, ever allow such a rebel, a loose cannon to exist anymore.

Genius makes its own space and I hope that you feel that through this web site that real football, real fans and the spirit of the game can still prosper.