Brook Street's U-19 team secured the liga title this afternoon, courtesy of a 2-1 win over Latvian side Magiskie 2 at the Academy.

Athletic took the lead through Russell Bogle before they were shocked when the visitors equalised through Gunārs Rajeckis-Miglinieks, the first goal conceded by the youngsters this season.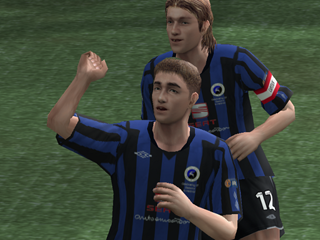 Guido Westerwelle was on hand in the second half to score what proved to be the winning goal.

"The boys have been exceptional this season and thoroughly deserved their title", said Jeff Duilach afterwards. He added, "We've been fortunate to have a good crop of youngsters coming through which is a credit to the work done by our scouts".

The coach then confirmed that the club will be playing in a new league next season saying, "We have completely dominated the league this season so we feel we need a bigger challenge for the boys. With this in mind, we have joined the apollon league which will see us play against teams from Argentina, Brazil, Finland, France and Spain".

Fixture details will be released in due course.


Comments


Eskild Bøgholm expressed his satisfaction at Brook Street's two 7-1 victories over falkirk saying, "It was vitally important that we secured convincing wins in our matches against the bottom club, and the players showed their professionalism by securing back-to-back 7-1 wins".

Saturday's win at New Home Park saw Athletic strengthen their grip on third place in the league while keeping their slim championship hopes alive.

"We're four points behind the top two, but with games running out, the chances of us being able to overhaul them are diminishing", conceded the coach. He added, "That's not to say we're throwing in the towel just yet, as the top two have still to face each other again, and we've still to play both, so points are there for the taking".

Next weekend Athletic face top side The Rob wonderers, and is sure to be a tight game, despite Brook Street's good record against them.

Eskild said, "We have a really good record against them, having only lost once in five matches, but they are unbeaten this season and gave us a real runaround in our last meeting, although we managed a 2-2 draw".

One player who will miss the match, and the rest of the season will be Fons Consheim who was stretchered-off on Saturday with a suspected broken leg.

"It doesn't look good for Fons" said the coach, "and it is unlikely that he will appear again this season".



* * * * * * * * * *


Brook Street's B-Team travel to Belgium on Wednesday to face Zwart-geel in their third match of this season's Brook Street Cup with the view of keeping the pressure on Hardy's at the top of Group B.

"With only one qualifying place, it's going to be tight" said Al MacHarold, "but we're going to give it our best shot".

Kick-off on Wednesday is at 13:30 HT-Time.



* * * * * * * * * *



With only their final match left against title rivals Magiskie 2 remaining, Brook Street's U-19 side have all but secured the liga title at the first time of asking. Only an 11-0 defeat will deprive the youngsters of the championship, and with this being unrealistic, the team are looking forward to their second successive title.

"The lads have been outstanding this season, and thoroughly deserve their championship", said Jeff Duilach.

"Hopefully we can keep a clean sheet this week to go a complete season without conceding", said the coach.

Ahead of tomorrow's game, the youngsters earned themselves a morale boosting 7-0 win against Ukrainian side Tekstil Ac at New Home Park in a friendly last night. Magnus Was bagged himself a hattrick, with Athletic's other goals coming from Guido Westerwelle (2), Brae Caw and Mathieson Woddirburn.

Kick-off for our final game is at 16:05 HT-Time.

Comments


Two goals from Daniel Zieleznik rescued a point for Brook Street against The Rob wonderers at New Home Park on Saturday, and while the coach was happy with the determination his side showed, he was less than happy with the standard of defending that saw his team go behind twice.

"We lost a stupid goal just after half time, then fought our way back level only to concede another poor goal and find ourselves chasing the game again" he said.

Eskild continued, "Fortunately, we hit back within a couple of minutes, but we just can't afford to gift goals in this manner. Poor defending has cost us dearly this season, but we just don't seem to be heeding the lessons".

He added, "We're scoring a lot of goals, but those are being cancelled out by our slack play at the back. This has got to stop".

The coach was full of praise for striker Zieleznik, whose two goals saw him move to the top of the division's scoring charts, and new winger Vitor Leocadio whose cross set up the Pole's opening goal.

"Daniel's goals got us out of jail today, and fortunately for us he is in good scoring form at the moment. Vitor's through ball to him for our opening goal was sublime which was matched by the finish".

"Vitor had a good game and showed some really nice touches, but I know he can play much better. It's never easy coming into a new team let alone coming in and being pitched straight in against the team that is second in the league, so the fact he set up one of our goals speaks volumes".

"He's got lightning quick pace and once he gets used to the Scottish game, I'm sure he will be a very valuable acquisition for us".

The coach was also able to elaborate on the extent of the injury to Emilio Juárez that saw the Spaniard limp out of the game after only three minutes.

"It now looks likely that only be out for about a week. Initially, it looked like he'd be out for two weeks, but the damage isn't as bad as we first feared. Fortunately Horio's able to step right in, but we won't have any cover for him in the next couple of games".



* * * * * * * * * *



Finally, the waiting is over and Edition 4 of The Brook Street Cup kicks off in earnest tomorrow when FC Sandhasen Vorderplatz face francezii at Rheinpfalz-Arena in Germany.

Holders, Knights Alliance FC open the defence of their title in France against Buissière de Marseille, while Brook Street open their campaign with a home game against Ujpest Partisans on Wednesday; a tie that is eagerly anticipated by the players and fans alike.

"We're all really looking forward to the game", said Al MacHarold adding, "and we will be hoping to go one better than last time".

"Partisans seem to be bringing a decent support, and I'm sure the game will be a cracker".

Also in Group B, Hardy's take on Zwart-geel at Cameron North Carolina.


Comments


Brook Street bowed out of this season's Scottish Cup on Wednesday, but gave their opponents, Hazelden Rovers, a few nervy moments along the way.

In fact, the match looked to be heading for extra time when the Division III side finally got their noses back in front with less than a minute of regulation time remaining, before delivering the coup de grace in stoppage time.

Brook Street had got off to the worst possible start, conceding the opening goal with only a couple of minutes played. Things could have got much worse throughout the first half with several near misses and a goal-line clearance however the score remained 0-1 until half-time.

If the beginning of the first half had been bad for the home side, they made up for it within two minutes of the re-start, Florus Fresen firing home.


Nine minutes later, and the turnaround was complete, Al MacHarold netting to put Athletic 2-1 up. Rovers were still very dangerous coming forward, and Nissim Avrahami made Brook Street pay for slack play at the back to equalise in the sixty-seventh minute.

Rovers were pressing for the go-ahead goal, but Brook Street were holding firm, that is, until the final minute of regulation time when Jason Carson fired Rovers towards the Fifth Round.

There was no way back for the deflated Brook Street players, and although they threw everyone forward in search of the equaliser, Rovers delivered the sucker punch in stoppage time when Nissim Avrahami broke through to score his side's fourth goal.

"I'm proud of the lads today", said Eskild at full-time. "They were pinned back for long spells and put under extreme pressure, but they battled away and were unfortunate in the end".

"I can't take anything away from Rovers though. We rode our luck at times, but they scored at probably the perfect time to wrap up the match and I wish them the best of luck in the next round".

He added, "We can now look forward to Brook Street Cup 4 which starts in three weeks. Before that though, we've arranged a trip to Venezuela next week to face Los revienta bolas, and Maltese side Santa Lucija Fc visit us in a fortnight's time".



* * * * * * * * * *


Brook Street's Under-19's made an impressive start to their liga campaign winning 4-0 in Latvia against Magiskie 2 on Tuesday morning.

Mat Woddirburn netted a double, with Brook Street's other goals coming from Steve Jore and Sam Bland.

"We were thoroughly professional today", said Jeff Duilach afterwards, "and played some fine football. If we continue to do this, we'll do well in this league".

He continued, "There was the danger that having been so successful in the Academy League the boys may have lost their edge, but today proved that not to be the case".



Comments


Brook Street created a small piece of club history this lunchtime when they qualified for the Fourth Round of the Scottish Cup for the first time, by defeating Woodburn Athletic 2-1 after extra time.

After an instantly forgettable first half that had descended into a dour midfield slog, the game burst into life with seventy-four minutes played when Woodburn's Guillaume Peres unleashed a superb free kick that had Horia Patrascu beaten all ends up.

The home team's lead lasted only five minutes however, before Maurycy Rombel fired home the equaliser.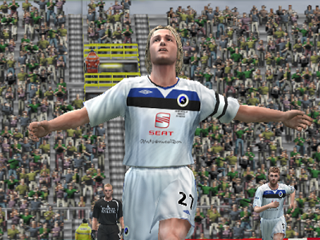 Woodburn would feel hard done by that for all their possession, they hadn't seen off Brook Street, and they must have rued this further when, three minutes into extra time when Ewan Bell guided the ball just past the home keeper to secure the win.

"We were made to work very hard by a very well drilled team, but we made our chances count and that's all I can ask for", said Eskild after the match.

He continued, "It's nice to have made a little piece of history by reaching the fourth round for the first time, but as I've said before, the league is our priority".

Brook Street's reward is a home tie against Division III side Hazelden Rovers.

"It should be a cracking game", said the coach.



* * * * * * * * * *


The Under-19's completed their whitewash of the Academy League by winning their final match of the season 6-0.

Jeff Duilach confirmed afterwards that the club had resigned from the league, saying "We feel that the further development of the Youth Academy will be better served by moving to a new league."

"With this in mind, we have resigned from the Academy League and are currently negotiating our entry into a new league".

"I can confirm that the league features four teams, but that this is meant to only be a stop-gap to bring our season into sync with another league we hope to join in the future".



* * * * * * * * * *


Athletic kick-started their season last Saturday courtesy of a fine 4-1 victory over Laptop Lions at New Home Park. Daniel Zieleznik netted a brace with our other goals coming from Jukka Pöllänen and a Constantin Marinicã spot kick.

John Regan had pulled one back for Lions to make the score 3-1, but there was no way that Brook Street were going to let their lead slip, and only the woodwork saved the visitors from a heavier defeat.

"We're pleased to be off the mark and with results elsewhere having gone our way, we're only a point off the lead", said Eskild.

"It's good to be back on track before facing nids next weekend".

Comments


Brook Street eased into the Third Round of the Scottish Cup today, and could even afford the luxury of missing a penalty in their tie with Tayside FC in Dundee.

By that time however Athletic were already 6-0 up so Al MacHarold's wayward spot kick was not an issue, other than to the player himself.

"I was going for my second goal of the game, so to blaze it wide was a real disappointment", he said.

Al had opened the scoring with less than ten minutes played, before Florus Fresen raced onto a clearance from defence to slot home number two midway through the first half.

With twenty-four minutes played Ailpien Caird got his name on the score sheet, before Maurycy Rombel wrapped up the first half scoring ten minutes or so later.


Allan McAllan increased the lead to five after fifty-one minutes, and Euan Obree (Right) hit the pick of the bunch with seventeen minutes left to wrap up the scoring.

"We weren't under any pressure today, so we played this one more like a training match", admitted Eskild Bøgholm after the game. Realistically, there was no way we were going to lose this, so it was all about getting the players' fitness and confidence up".

He added, "If we'd had to, we had plenty in reserve so we had the option of upping the pace of the game if it was required".

Attention now switches to the league, and Saturday's match with The Laptop Lions at New Home Park.

"That's a whole different ball game", said the coach.



* * * * * * * * * *


In a very low-key performance, Brook Street's Championship winning Under-19's won their penultimate fixture of the season in Italy this morning to maintain their 100% record.

Sam Bland, playing his first match for the club, opened the scoring with nineteen minutes played, and the lead was doubled by Magnus Was with thirty-six minutes on the clock.

The home team pulled a goal back just before half time, but neither side were able to find the way to goal in the second half, and the game died in midfield stalemate.

"We've got to be happy with the win", said Jeff Duilach afterwards, "even if it wasn't one of our better performances".

He continued, "With the title wrapped up, all we've really got to go for is the 100% record. With it now almost certain that we'll leave this league next week, it would be a good way to bow out".

All that stands between the Under-19's and a perfect season is Bulgarian side Banicharite, who visit the Academy next Wednesday.

Comments


Brook Street stormed into the second round of this season's Homecoming Scottish Cup courtesy of this morning's 9-0 demolition of Central United in Stirling.

Charlie Greusach was United's tormentor in chief, netting a hattrick on his comeback from injury, with Athletic's other goals coming from Florus Fresen (2), Kyle Fair, Maurycy Rombel, Euan Obree and Jan-Thorsten Kurgarten.

Speaking afterwards, Eskild Bøgholm said, "This was all about boosting confidence ahead of the league kick-off on Saturday". He continued, "I feel we played some good football today, and with starting places up for grabs for Saturday's game, the lads responded excellently".

The coach was also pleased that his players had come through unscathed, although Florus Fresen picked up a slight knock late in the first half.

"We took a look at Florus at half-time, but by then he'd pretty much run off the injury. We'll make sure there's no adverse reaction over the next couple of days, just to be sure".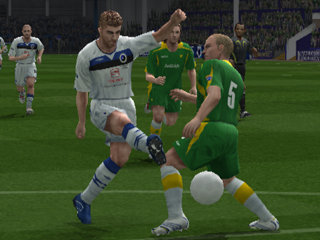 Eskild was also pleased with the performance of striker Charlie Greusach playing his first game after a lengthy lay-off.

"Charlie really hit the ground running today and looks to be raring to go". He continued, "I want competition for starting places, and with performances like this, Charlie will certainly be keeping the pressure on for a first team place".

Hattrick hero Greusach said, "It was great to get back playing again, and to get the three goals was a real bonus". He added, "Now hopefully I'll stay free of injury and have a good season".

As yet, there is no news of the second round draw, although it is almost certain that Brook Street will be drawn away from home.



* * * * * * * * * *


Brook Street's Under-19 team successfully defended their Academy League title with two games to spare by winning 9-0 today.

A delighted Jeff Duilach said, "The boys have been streets ahead of the other teams in the league this season, and thoroughly deserved their title win".

There is still uncertainty as to where the youths will be playing next season as a proposed league switch has fallen through.

"We'll have to take another look at this", said Jeff, "although I doubt if we'll be playing in the Academy League next season".

Comments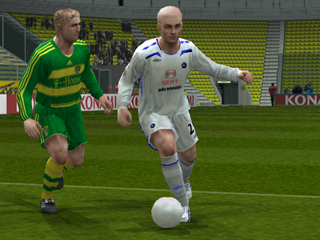 Three goals in the last four minutes saw Brook Street run out eventual 8-0 winners against Lenny's Golden Gunners in Ireland last night.

Al MacHarold had opened the scoring from the penalty spot on the half-hour mark before Brook Street found the net twice in the thirty-seventh minute through Ewan Bell and Jan Thorsten Kurgarten to make the half-time score 3-0.

Street had to wait until the seventy-first minute before Florus Fresen made it 4-0, and four minutes later Al MacHarold hit home Brook Street's fifth and his second of the evening.

In the final four minutes of the match, the roof really caved-in for the home team as first Johnan Lundhskär made it 6-0 before Florus Fresen netted twice to complete his hattrick.

Speaking afterwards, Eskild said, "We played some good football tonight, and scored some fine goals. It was a really good workout, and although Ewan and Ailpein picked up knocks, I think they'd both be ok by the weekend".

"We suspected Lenny's would go 3-4-3 with attacks on the wings, so we set up accordingly. It looks like we got it spot on".

"Both JC East Glasgow and nids play 3-4-3, and it's a formation we've had problems with before, so to finally get our set up right is particularly pleasing".

The coach added, "Our midfielders were excellent tonight and clearly our training regime is starting to pay dividends. Our passing was slick and fast, and we never gave our hosts a chance. If we can transfer this kind of form to our league matches, then I think we will be a hard team to beat next season".

Lenny's are due at New Home Park next Wednesday with kick-off scheduled for 11:30 HT-Time.



Comments


10-man Brook Street saw off Newton Heath 4-0 at New Home Park this afternoon to keep their slenderest of promotion hopes alive. First half goals from José Eransus, Kyle Fair and Fons Consheim were added to in the second by Humberto Andrade

Those hopes were further boosted by the news that Underrated and nids army had shared the spoils, pegging Underrated's lead back to six points ahead of next weekends clash between the sides.

"It was a big win for us today, especially after Jukka's red card, and sets us up nicely for next weekend's match", said Eskild afterwards.

"We had to win today to keep our faintest of chances of winning the league alive, so to do it so convincingly was particularly pleasing. It was also a real confidence booster after a couple of bad results".

He continued, "We travel to face Underrated next weekend so after that match, either they will almost certainly win the league, or it's 'game on'. Either way, we'll know our fate".

Brook Street skipper Marcus Lövman added, "The players know they've let everyone down over the past two weeks, so we were determined to put things right today. We got the win, and as the leaders dropped two points unexpectedly, it's given us renewed confidence for next week's match. It's our last chance to put real pressure on them, so we know we must win".



* * * * * * * * * *


On Wednesday Brazilian side onion king visit New Home Park for an international friendly match, while the following week sees Street travel to Ontario Canada to face FC Kitchener. Then follows a double-header with Irish side, Lenny's Golden Gunners, the first leg being in County Offaly on 8 April.

Just announced this week, 22 April sees Brook Street make their first ever trip to central Asia where they will face Mitisenok in Kyrgyzstan. "That's sure to be quite an adventure", one insider said.



* * * * * * * * * *


The club has announced that the official website will go offline before the end of the current season to allow for a significant revamp to coincide with the celebrations to mark the club's tenth season in Hattrick.

"We will be completely re-modelling the site, and we will need to take it offline for maybe up to two weeks", said a club spokesman. He continued, "We will maintain a one page version online giving the latest newsonly, and hopefully the work will be done over the close season when disruption will be kept to a minimum".


Comments


Brook Street proved too strong for their Australian visitors at NHP this morning, running out eventual 4-0 winners, however coach Eskild Bøgholm reckoned the scoreline flattered his side.

"I don't really think there were four goals between the teams, but we were by far the more dangerous side in the last third. I suppose the scoreline reflects that".

He also thought that the team as a whole would benefit from the win saying, "That was all about boosting confidence and morale following Saturday's defeat. We certainly played confidently and scored some superb goals".

"It was also particularly pleasing that our goals came from all areas of the pitch".

Maurycy Rombel opened the scoring with three minutes played, and a strike from Johan Lundhskar made it 2-0 at half-time. Jan-Thorsten Kurgarten made it 3-0 two minutes into the second half, before Ewan Bell wrapped up the scoring six minutes later.


The game saw Ronnie Chrystal make his debut for the seniors following his promotion from the youths, and although the youngster had a quiet game, the coach reckons he could develop into a fine player.

"Ronnie's in kind of the same position as Ewan Bell was a couple of seasons ago, and given the right training, there is absolutely no reason why he couldn't end up playing regularly in the first team. He's a local lad, and it's only natural he wants to do well for the club".

He continued, "He's got a huge amount to learn, but if he's good enough, he'll get his chance the same as everyone else".

On his debut performance, Ronnie Chrystal said, "The gaffer told me to go out and enjoy the occasion, but I was really nervous, which surprised me. I wanted to make a good impression and not let anyone down, and I think it got to me a bit. I think I did ok, and the gaffer seemed to be happy."

Focus now shifts to Saturday's match with Newton Heath, while next Wednesday, Street will travel to Lithuania to face FBK Karaliai in Kaunas.

The club also announced tonight that on 25 March, Brazilian Division V side onion king will visit New Home Park


Comments