The entire midfield netted yesterday as the Brook Street juggernaut steamrollered FK Mayfair, and vindicated coach Ismael Bécares's decision to make significant changes to the starting line-up.

As anticipated, the coach made three changes. Cüneyt Emre could only find a place on the bench while Matija Ivancic and Jahn Dorfelden dropped out of the side altogether. Andy MacQuisten was restored to the first team, while new signings Constantin Marinicã and Humberto Andrade made their first team debuts for the club.

With only ten minutes on the clock, Street were 2-0 up thanks to goals from Billy MacGillivour and Arjan Gaanderse. Despite almost constant pressure on the home defence the league leaders could only add one more goal prior to half time, that coming from Marco Tallon.

Andy MacQuisten repaid the coaches confidence in him with a peach of a volley on the hour mark, while Humberto Andrade opened his first team account in Brook Street colours a quarter of an hour later.

Jim MacCluskie netted from a free kick with nine minutes left, and man of the match Arjan Gaanderse got his second of the afternoon to complete the scoring two minutes later.

The coach was understandably pleased with the result, and praised his players' efforts. "I feel we played some excellent football today, and fully deserved our victory".

With FC Scum and Ripes Blues facing each other next week something has to give, and Brook Street could see their lead increased by this time next week. The coach however was only interested in his own side's performances.

"We have got to retain focus and concentrate on our own game. If we go about our job, what happens elsewhere does not matter".


Comments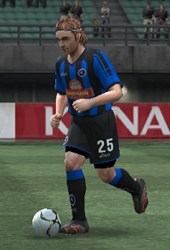 Coach Ismael Bécares seems almost certain to ring the changes for this afternoon's away match against FK Mayfair following Wednesday's successful match in Portugal.

It is thought that several players have pushed their way into contention for a starting place, and although the coach refused to confirm who the players were last night, new signings Constantin Marinicã and Humberto Andrade (Right) are thought to be amongst them.

"A number of players performed particularly well in midweek, and as I've said before, if a player's performances are good enough, they will get their chance in the first team".

"It certainly does no harm to shake things up every now and again, and it keeps the players sharp", said the coach when he spoke to the official website. He added, "We are entering a crucial stage of the campaign and cannot afford any slip ups. We need the players to be playing at their best, and competition for places will guarantee this".

A big travelling support is expected, but despite this fans are reminded that the match is pay at the gate.


Comments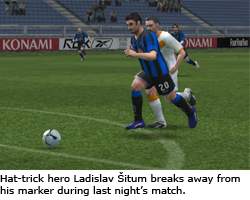 It was a particularly bad day at the office for the home team as Brook Street's B-Team proved to be far too strong for their Knights Alliance counterparts at a rain soaked Knights Towers last night.

Debuts were given to young Reece Lowson along with new signings Constantin Marinicã and Humberto Andrade, and it was the Portuguese winger Andrade who opened the scoring after only three minutes.

Marinicã netted on his debut after 35 minutes, and recent signing Maurycy Rombel hit his first and second goals from the club after 38 and 41 minutes.

"Old timers" Andy MacQuisten and Ladislav Šitum had scored earlier to make the half-time score a one-sided 6-0.

Chris MacJames and Ladislav Šitum added to the scoreline in quick succession after 66 and 67 minutes before the roof completely caved-in for Knights in the last ten minutes.

Paulo Santos hit two in 82 and 85 minutes before Ladislav Šitum completed his hat-trick a minute later.

Humberto Andrade got his second goal of the evening to complete the scoring with two minutes left.

"These kind of matches come along from time to time, but it's not the scoreline that matters", said coach Ismael Bécares. "The players know that they have to be on top form to be selected for the first team, and tonight these players showed the right kind of attitude".

He continued, "Unfortunately for Knights, they were on the receiving end tonight as our players, both old and new stake their claim for a first team place".

Although the coach refused to confirm or deny, it is possible that a number of the players may have been successful in persuading him that they merit a starting place in Saturday's line-up.

Knights are due to play the return leg at New Home Park next Wednesday, and everyone at the club is eagerly anticipating the arrival of the players and fans of our Portuguese friends.


Comments


In Shanghai early this morning, the youth team faced Chinese side RPWT in their opening LYKOKATIGORIA league match. An excellent performance by the youngsters saw them ease past their hosts by a terrific 8-0 scoreline, with four goals coming from Charlie Greusach, two from Jeff MacCaishe and singles from Al MacCombe and Scott Barrie.

"It's early days, but we've started the campaign in the best possible way", said Jeff Duilach following the match. He continued, "We were worried that the long journey would have affected the players, but those worries proved to be unfounded. The lads carried on where they left off in the Scottish Bairns League, and produced an excellent performance".

The youngsters are now heading directly for Greece where they'll spend the time prior to their second match of the campaign against LYKOVRISI UNITED B at a training camp.

The coach said, "After such a long journey it didn't make any sense travelling all the way home just to head off again a couple of days later, so we decided to stay in Greece and organise a training camp. It'll be a good experience for the lads, and it's always better training in the sunshine rather than driving rain!"



* * * * *


Ray Aardewerk became the second player this week to leave the club, and has returned home to play for Fc – Voetbal from Utrecht.

Ray made a total of 28 A-Team and 21 B-Team appearances, scoring 4 goals in the process following his transfer almost four seasons ago from Swiss side, Team_Suisse.

We would all like to wish him the very best of luck at his new club.


Comments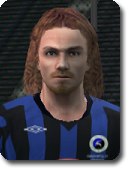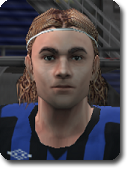 Ismael Bécares last night launched not one, but two successful raids on the transfer markets to strengthen the squad for the season run-in.

First in was 24 year-old wing-back Constantin Marinicã, (left) signed from Romanian side FC Steaua Rosie. He was then followed in by 19 year-old Portuguese winger, Humberto Andrade, (right) the teenager signing from Horta City.

"These players will fill gaps we had in the squad", said the coach, "but they are not here simply to make up numbers".

He added, "I expect there to be competition for every single position. This is good for the team, as it will keep the players on their toes. No-one should expect to walk straight into the first team, and those that make the starting eleven will be there on merit".

It is likely that both players will make their debuts for the club on Wednesday against Knights Alliance FC.



* * * * *


The youth team left late last night to embark upon a mammoth journey to China, where their LYKOKATIGORIA International League campaign starts early on Wednesday morning.

Shanghai side, RPWT are the youngsters' first opponents, and the youth team will also face Greek side LYKOVRISI UNITED B and Brazilians, deduges.


Comments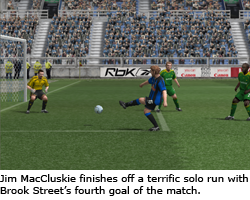 Brook Street came back from a goal down to record a 4-1 victory over Pub Team at New Home Park yesterday.

Paulino Serrano gave the visitors a shock lead in 32 minutes, which seemed to be the wake up call the home team needed. Marco Tallon fired home the equaliser eight minutes later with a real bullet of a header, and just sixty seconds later Brook Street took the lead through a terrific Cüneyt Emre half volley.

Billy MacGillivour, not renowned for his heading ability, made it 3-1 just on the hour mark, and Jim MacCluskie finished off the scoring two minutes later with a fine solo effort.

"The match didn't come to life until they scored", said Ismael Bécares afterwards. "There was always the danger they would hit us on the counter-attack, which is exactly what happened. The players remained focussed however, and got the win".



* * * * *


The club have said fairwell to Dutch keeper Jord Hooijberg who is returning to his homeland after signing for Division VI side Middelburg Stad last night.

Jord joined us almost exactly four seasons ago, and made a total of 41 appearances for the club following his signing from Dutch side sc gaanderen. Only three of those appearances were for the first team however, and this failure to break into the first team lead to his decision to move on.



* * * * *



Reece Lowson gained his first experience of senior football yesterday, albeit from the bench and has now been installed as second choice keeper.

The coach confirmed that he will make his debut for the seniors in Portugal on Wednesday, when we play a friendly match against our friends at Knights Alliance FC.

"Despite the already close links established at youth level, this will surprisingly be the first time the B-Teams have faced each other. We are very excited about playing this match, as it will further strengthen the links between our two clubs", said a club spokesman.

A return match has already been arranged for the following week.


Comments


Brook Street kick-off the second half of their league campaign with a home tie against Pub Team tomorrow, and the team go into the tie full of confidence following their 6-1 victory over the same team last week.

The team however will not underestimate their opponents, and they will be treated with respect.

Speaking to the official website this afternoon, Ismael Bécares said, "Last week, I think we caught them on the hop. We scored early, and from then on they were on the back foot. Tomorrow, they will set up to frustrate us. We are the home team this time, so it's up to us to make the running".

The coach will have almost a full squad to choose from, the only exception being keeper Jord Hooijberg, who the club have confirmed has been transfer listed at his own request.

"Jord has been feeling it's time for him to move on and while we will be sorry to see him go, we would like to wish him the very best of luck wherever he moves to" said the coach.


Comments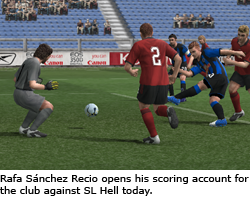 Brook Street's B-Team restored some pride at lunchtime today, as they completed their Brook Street Cup campaign with a victory against Portuguese side SL Hell at New Home Park.

Twice the home team came from behind before Brieve MacVanish hit what proved to be the winner after 65 minutes. Cristiano Barra put the visitors in front after 33 minutes, before Rafa Sánchez Recio opened his account for the club ten minutes later.

Brook Street were only on level terms for two minutes, as Toni Baleiras netted the visitors' second right on half-time. With the last kick of the half, Ladislav Situm, much to everyone's surprise, hit Brook Street's second equaliser of the day.

After all the excitement at half-time, the second half of the match died, with MacVanish's score literally being the only entertainment.

"The boys dug deep today, and although it was far from a good performance, they got the win to lift themselves off the bottom of our group", said the coach. "We've had a poor campaign, and it's with some relief that we have finally got a win. Rafa got off the mark too, which is good as I know it was eating him up that he hadn't scored. Now he's got that monkey off his back, he'll go forward and get lots of goals for us".



* * * * *



Reece Lowson signed-off from the Youth Team with a clean sheet as the youngsters defeated Rangers Youth Team 5-0 to secure the runners-up spot in the Scottish Bairns League. A Charlie Greusach hat-trick and singles from Jimmy Paton and Scott Barrie did the damage.

Reece completed his move up to the senior squad following the match, and is likely to make his senior debut against Knights Alliance next week.

"That a player is moving up to the senior squad so soon is a vindication that The Academy is working as it was intended", said Youth Coach Jeff Duilach. He added, "We'll miss the big lad around The Academy, but we're all very proud of him, and hope he has a long and successful career with the senior team".

Speaking of his promotion, Reece said, "I am thrilled to be getting a chance with the senior squad. I'd like to thank all the staff at The Academy and the rest of the lads for their good wishes. I can't wait for my first day of full training tomorrow".

His new coach said, "He's got a lot still to learn, but he has the potential to have a long and successful career at this club".



* * * * *


The club tonight announced that they have resigned from the Scottish Bairns League. Next season the youths will be playing in the LYKOKATIGORIA, a four-team International League.


Comments


Brook Street completed the first half of the season with their 100% record intact, thanks to a fine 6-1 victory at Pub Team on Saturday.

Doubles from Cüneyt Emre and Al MacHarold along with singles from Eskild Bøgholm and Mate Javoran ensured that Brook Street go into the second half of the season with a three point lead over rivals FC Scum, while increasing the goal advantage further.

"We had a very large travelling support, and we made sure they travelled home happy", said Eskild Bøgholm afterwards. "We've made sure we go into the second half of the season with our noses in front, and with a far superior goal difference", he continued.

His coach added, "The team are in the lead, but the job is only half done. We must now finish it off".



* * * * *


The B-Team face their final Brook Street Cup match this Wednesday, as Portuguese side SL Hell visit New Home Park. Both sides have already been knocked out, so only pride is at stake.

Jord Hooijberg returns between the sticks following his injury, and with no injuries listed the B-Squad is anticipated to be at full strength for the match.

Kick-off is at the usual time.



* * * * *


The Youth team face their final fixture of the season on Wednesday, away to Rangers Youth Team. The fixture now seems likely to be the last in the youth team for keeper Reece Lowson, who will be moving up to the seniors.

"The coaching staff have discussed the move at length with the lad and his parents", said youth coach Jeff Dulliach, "and we've concluded that it would be better if Reece was to make the step up".

He continued, "It's likely that we'd lose Reece part of the way through next season, so we all feel he is just as well moving up now. I'm sure he'll be a star for the first team in seasons to come".

Kick-off for the match is at 10:30 local time.


Comments


Three goals in as many minutes killed off Brook Street's challenge against thor capellen hsv05 at New Home Park this morning. Although the home team pulled one back right after half time through Chris MacJames, the impressive visitors closed the game off with a fourth after 65 minutes.

"We were doing not too badly until they scored the first, then the roof caved-in", confessed team captain Chris MacJames. He added, "After that, we were chasing the game".

Over all, it has been a disappointing campaign for the Cup's hosts, but today's performance, despite the score, was more promising than earlier displays.

"I suppose we didn't do too badly against the top team in the Group", said MacJames before adding, "We can go into next week's last game against SL Hell with renewed optimism, and determination not to end our participation pointless".



* * * * *


It was a happy 18th birthday for keeper Reece Lowson, as the youth team completed their penultimate fixture with a fine 4-1 win at home against Oban Celtic Jnrs.

Charlie Greusach and Jimmy Paton added to two early first half Clyde MacFeat goals in 76 and 77 minutes, before the visitors pulled a consolation goal back through James Meyners.

The win means that the youths can finish the season no lower than fourth in the Scottish Bairns League, and a win against Rangers Youth Team will confirm their second placed finish.


Comments