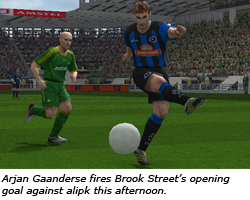 Brook Street showed their ruthless streak this afternoon as alipk were put to the sword. Had it not been for a superb performance by home keeper Marcelo Laín Valenzuela, the scoreline could have been far greater.

Despite his best efforts, he was left helpless in front of a Brook Street attack that was in top form. Arjan Gaanderse opened the scoring with twenty-seven minutes played, and by half-time two further goals had been scored. Francisco Carlos Simões hit the first of his hat-trick after thirty-six minutes, and a minute later Florus Fresen knocked in the first of his brace a minute later.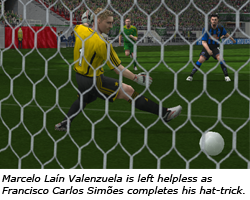 Rory MacKichan pulled a goal back for the home side just after half-time, but there was to be no comeback as the New Home Park side simply stepped up a gear to close off the game.

A clearly delighted Ismael Bécares said afterwards, "I feel we were simply fantastic this afternoon. We showed exactly what we are capable of, and thoroughly deserved our win".

The coach was however full of praise for home keeper Marcelo Laín Valenzuela of which he said, "Their keeper was outstanding, and without him I think the scoring could have reached double-figures".



* * * * * * * * * *


Brook Street's youngsters regained top spot in the SFAC Serie A without kicking a ball this afternoon. While Brook Street gained a default win following Juniors #11 failure to take the field, TQC2 were surprisingly going down 1-0 to The Trossachs Thistle.

With four matches left, Brook Street are back in the driving seat, but coach Jeff Duilach played this down.

"We've still got difficult matches left, so we won't be 'counting our chickens'. We'll definitely be keeping our feet firmly on the ground".

Comments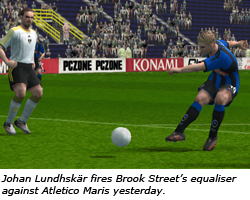 Brook Street's poor from in this season's Brook Street Cup continued in Turkey yesterday morning as the home team ran out 4-1 winners. This latest defeat combined with Lokomotiv Mariehamn's win against Electricity VII, ended the hosts' participation in this season's competition before next week's final round of group match. The side will now have to settle for a place in the new Brook Street Shield, which starts in three weeks' time.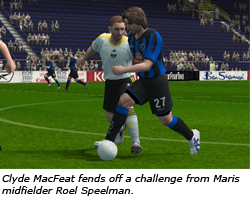 Despite seeing his team knocked out at the group stage, Ismael Bécares was typically upbeat saying, "Although we're obviously disappointed to be bowing out of the cup at an early stage again, the players have gained invaluable experience, and the club will benefit from it in the long run".

He continued, "We still have a match in Malaysia to look forward to next week, and we'll be going all out to win that. We will also now start to prepare for the Brook Street Shield. Hopefully we will do better in that competition".

Comments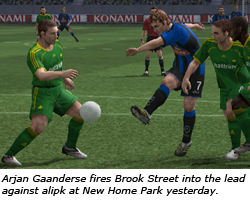 Brook Street got back to winning ways yesterday with an emphatic 4-0 victory over alipk in front of a new record crowd at New Home Park.

Leading through an Arjan Gaanderse strike at half-time, the same players doubled the lead six minutes into the second half.

Five minutes later, and Francisco Carlos Simões made the game safe before Florus Fresen completed the scoring midway through the half.

"I feel we controlled the game from start to finish and deserved our win", said a contented Ismael Bécares after the match. "The players set about their task in a thoroughly professional manner, and got the win that their play merited".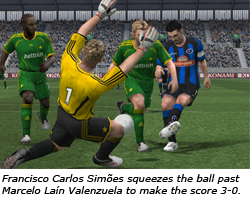 He continued, "It also gives us a bit of an edge for the return match next week".

The coach's impression of the game was shared by double scoring Arjan Gaanderse.

"We got off to a good start, but our lack of goals at half-time concerned us as we'd passed-up a number of good chances, however the gaffer told us to keep doing what we were doing and the goals would come".

He added, "I was fortunate enough to get that second goal, which settled us, and from then on we bossed the game. I don't think anyone could grudge us the win based on our performance".



* * * * * * * * * *


Brook Street's youngsters suffered a shock defeat at the hands of The Notorious B.I.G. FCY yesterday, going down 1-2 in Belgium.

In a bad tempered match, which saw five bookings, the home team took the lead just after the hour mark through Yoachim De Bock. Jon Wardlaw levelled for Street three minutes later, but the home team were not to be denied and Mamadou Fedior netted the winner with ten minutes left.

"We never got going today, and paid the price", was Jeff Duilach's opinion of the match. He continued, "We've slipped off top spot in the league now and will have our work cut out to overtake TQC2 now".

He also confirmed that the youngsters will be leaving the SFAC League at the end of the current season.

"We've considered our position and see no point in staying. Two teams have already dropped out, and we would rather play in a league in which there are no walkovers".

He concluded, "We will be looking out for new leagues over the next few weeks to ensure that the change between leagues is as seamless as possible".


Comments


The host club's participation in this season's Brook Street Cup appears to be coming to an end following our most recent defeat at the hands of Lokomotiv Mariehamn.

Paulo Santos had opened the scoring at New Home Park, but goals from Mostafa Mofti and Henrik Tang gave the visitors the points.

The coach however was not critical of his players saying, "Lokomotiv fielded most of their first team, so to go down narrowly is no disgrace".

While the coach was heartened by the performance of the B-Team, there was concern for Kyle Fair who limped out of the game in the second half.

"Kyle has taken a bad knock, and it looks like he'll miss the next couple of games".


This will be a major blow to the youngster whose performances of late have pushed him to the fringes of the first team, as Ismael highlighted.

"It is a set-back for the lad, of that there can be no doubt, but that is part and parcel of being a footballer and an occupational hazard". He continued, "Our backroom staff will take good care of him, and I wouldn't be surprised if he was back sooner".



* * * * * * * * * *


Last night, James Rome became the latest youth player to be given a chance to impress with the senior side.

Commenting on the new signing the coach said, "James has been playing in midfield with the youths, so we'll see how he gets on. If he is good enough, he will get his chance the same as everyone else".


Comments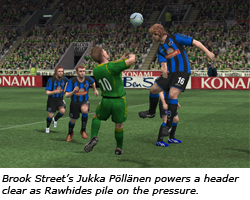 The gap in quality between a Brook Street and Rawhides, a Division III side in all but name, was plain for all to see in Saturday's match at Ned Beatty Park.

Essentially, it was one-way traffic with wave after wave of attack being launched on the Brook Street goal, so it came as no surprise when the home team opened the scoring with nineteen minutes played.

From then on the game was not in doubt, and it was only a matter of how many goals the winning margin would be.

"We've got a horrendous record against Rawhides, and that continued today", said the coach afterwards.


He continued, "They are a Division III side in-waiting, and there wasn't much we could do today other than try to keep the score down".

Brook Street's defeat saw them slip to third place, but they have a chance to get back on the rails quickly as the first half of the season will be completed next week with a home tie against alipk. The Central side have made a confident start to their campaign and are currently tied with Brook Street on twelve points.



* * * * * * * * * *


In probably their finest ever performances, Brook Street's youth team stormed to the top of SFAC Serie A with a terrific 3-0 victory over reigning champions TQC2.

That the youngsters recorded the win was good enough, but the win takes on a whole new light when it is considered that not only had Ewan Obree limped off with a quarter of an hour played, but the youngsters played the whole of the second half with ten men, James MacIndoe having been sent off for two yellows within two minutes just before half-time.

Youth coach Jeff Duilach was clearly delighted saying, "The boys dug deep today and got their reward. I am very proud of them".

He was then asked about Ewan Obree's injury and said, "It doesn't look too bad, and I'd expect him to be ok for next weekend".

Comments


Brook Street plummeted to the bottom of Group 8 following tonight's narrow defeat in Finland.

Lokomotiv had taken a surprise lead in sixteen minutes through American midfielder Stuart Grigsby, but despite controlling the game for long spells, Street couldn't get the equaliser.

In fact, the closest Brook Street got to scoring was when Clyde MacFeat rattled the crossbar with eight minutes left, but there was to be no share of the spoils.


A bitterly disappointed Ismael Bécares spoke to the assembled press afterwards, and said, "We have really let ourselves down tonight, and the players know that".

He continued, "We can't afford any more slip ups, and as two of our remaining fixtures are away from home, we face an uphill task".

Brook Street get an early chance to put the record straight when Lokomotiv visit New Home Park next Wednesday.



* * * * * * * * * *


While the B-Team were going down in Finland, the youth team flew out to France ahead of their friendly match against San Antonio Spurs tomorrow night.

Coach Jeff Duilach spoke to the official website before the team left and said, "We'll be taking a strong team, and the boys are looking forward to playing in France for the first time".

Kick-off tomorrow night is at 21:15 HT-Time.

Comments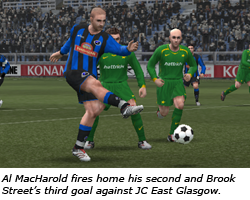 "Their equaliser gave our players the kick up the backside they were needing", said coach Ismael Bécares following his side's 7-1 demolition of JC East Glasgow at New Home Park yesterday.

He continued, "I was ready to tear them to shreds at half time, but they responded in an excellent manner to go into the break with the game virtually sown up".

There can be no doubt that the equaliser spurred the team on to secure the victory, and within six minutes, two Al MacHarold strikes and a terrific Humberto Andrade solo effort had added to Francisco Carlos Simões' earlier effort.

The team were not going to ease off on their opponents, but a combination of poor finishing and heroics by Max van Strijen in the East Glasgow goal kept the score down.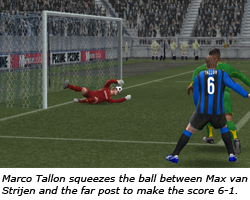 It remained at 4-1 until the last ten minutes when the roof finally caved-in on the west coasters, and goals from Glen MacKinnon, Marco Tallon and Florus Fresen gave the scoreline a more accurate indication of the share of the game.

"I don't think anyone at the game could say that the size of our win wasn't merited", said two-goal hero Al MacHarold. He added, "This sets us up nicely for our top of the table clash with Rawhides next week".



* * * * * * * * * *


In yesterday's showdown with reigning champions TQC2 at De hardgang, Brook Street's youngsters proved to be party-poopers securing a phenomenal 2-2 draw.

Man of the match was clearly Brook Street's new signing Ailpein Caird who netted both the visitors goals.

Of the new star, Jeff Duilach said, "He's without doubt an exceptional talent. Our scout said he was good, but I don't think even he realised just how good. If the lad progresses as well as he started, we may have unearthed a real gem".


Comments


Brook Street were given a real lesson in finishing by Atletico Maris at a rain soaked New Home Park this morning. Francisco Carlos Simões' second half counter was the only real highlight for the home team in a game that they were both outfought and outthought.

While the Turkish side scored three goals, they could have scored many more as Ismael commented afterwards.

"We were second to everything today, and that showed in the scoreline. Atletico were hungrier for the win, and they fully deserved the three points".

The defeat combined with Electricity VII's home win against Lokomotiv Mariehamn sees Brook Street fall to third place in Group G, and the cup hosts will be under pressure to
pick up maximum points in our double-header against Lokomotiv in the next two weeks.

"We know we can't afford any slip-ups", said the coach, "but we'll regroup for next week's match and be ready to go all out for the win."

The coach however is almost certain to try the so far untried combination of Francisco Carlos Simões and Charlie Greusach next week. Greusach has been playing wide on the right which he would be the first to admit is not his strongest position, but his predatory ability is beyond doubt.

"We'll see how Charlie and Francisco pair up in training this week before making any decisions", said the coach.

Comments


Having passed an early morning fitness test, Jukka Pöllänen was a surprise inclusion in the squad, and took his place in the starting line-up at Ayr United for the first time since the opening day of the season.

The Finn had a quiet but effective game as Brook Street ran out 6-1 winners, but it was midfield general Marco Tallon who stole the show with a five star performance.

Brook Street broke the deadlock in the twelfth minute thanks to a superb Constantin Marinicã free-kick which left Melville in the Ayr goal rooted to the spot. Nine minutes later and the score was 2-0 after Marinicã sent the keeper the wrong way from a penalty.

Street were in full flow now, and Arjan Gaanderse scored the third around the half hour mark, but despite controlling the game they couldn't add to their lead before half time.

They were however spurred into action six minutes into the second half when Alpin Charlesworth scored to get the home side back into the game. It took another twelve minutes for Brook Street to restore their three-goal advantage, Arjan Gaanderse netting his second of the afternoon, but from then on it became a case of damage limitation for the home team.


Juan Luis Bustunzuria fired in the pick of the goals in seventy-six minutes before Eskild Bøgholm hit his second goal in two games to complete the scoring two minutes later.

Speaking afterwards, the coach complained about his team's profligacy in front of goal saying, "We created a lot of chances today but yet again wasted so many of them. Fortunately we prevailed in the end, but against a better team we probably wouldn't be so lucky. We've got to finish teams off as soon as we get the chance".


He was however full of praise for Constantin Marinicã saying, "Constantin has worked hard at his game and the benefits were there to be seen today. His free-kick goal was simply outstanding". Ismael continued, "He was a bit of a loose cannon when he first came to this club, and we've certainly had our run-ins, but he has taken criticism to heart and has matured into a very good player".



* * * * * * * * * *


The club this evening announced the departure of Rafael Sánchez Recio, the young Spaniard having signed for Romanian Division VI side F.C. Jakart. We wish his well with his new club.



* * * * * * * * * *


Brook Street's youth team struggled to break down a highly organised Notorious B.I.G FCY side at the Academy yesterday but managed to net the only goal of the game.

Playing without Charlie Greusach for the first time, Brook Street's goal came from Jim Rome in seventeen minutes, and kept the side within touching distance of TQC2 who they face in Amsterdam next weekend.

Comments


Brook Street and Electricity VII served up a real cracker of a tie at New Home Park this morning. The game raced from end to end and the home team had to survive a late fightback before eventually winning the match 5-3.

"It was a fantastic match for the neutrals and a great advert for our competition", said Ismael after the match.

Brook Street opened the scoring in the eighth minute through Jim Paton, and within sixty seconds they were two up, Paulo Santos netting. Electricity VII were not going to lie down though, and within three minutes captain Roshadi bin Ismail had reduced the lead to a goal.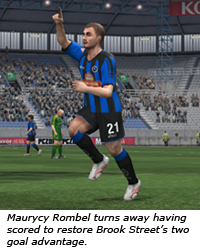 Remarkably, Brook Street restored their advantage to two goals a minute later through Maurycy Rombel, and although both sides created chances, the score remained at 3-1 until half-time.

Within three minutes however, former youth captain Charlie Greusach making his debut bravely dived to head home his first senior goal.

The tempo dropped at this stage, but things livened up in the sixty-eighth minute when Andrea Cosenza scored for Electricity VII to make the score 4-2.

With ten minutes left Brook Street were rocked when Roshadi bin Ismail netted his second goal of the match to make the score 4-3. However, just three minutes later Jim Paton calmed everyone's nerves by scoring his second and the game's final goal to make the score 5-3.

"We made things hard for ourselves, but we showed today that we can score goals from any position", said the coach.

Brook Street's next match in the Cup is next Wednesday at home against Atletico Maris.

Comments