•
•




















Season Champions


•




•




•





Topscorers


•




•




•





League Records


•




•









No topscorer rankings


were kept this Summer




2v2 Soccer












FUTSAL (5v5)


No topscorer rankings


were kept for


Futsal this semester




2v2 Soccer












OUTDOOR (11v11)
























2v2 Soccer












FUTSAL (5v5)













2v2 Soccer












OUTDOOR (11v11)
























2v2 Soccer












FUTSAL (5v5)













2v2 Soccer












OUTDOOR (11v11)























































































































































































FALL 2011 - OUTDOOR SOCCER
SEASON CHAMPIONS
---
| | | | | |
| --- | --- | --- | --- | --- |
| Men's A | Men's B | Men's C | Women's A | Women's B |
| Happy Tree Friends | FC 420 | / | / | Fugacity |
| | | | | |
| --- | --- | --- | --- | --- |
| | Co-Rec A | Co-Rec B | Co-Rec C | |
| | Lucky Number 11 | Tempted to Dutch | (Res. Underdogs) | |
Champions' TEAM PICTURES
---



Men's A - HAPPY TREE FRIENDS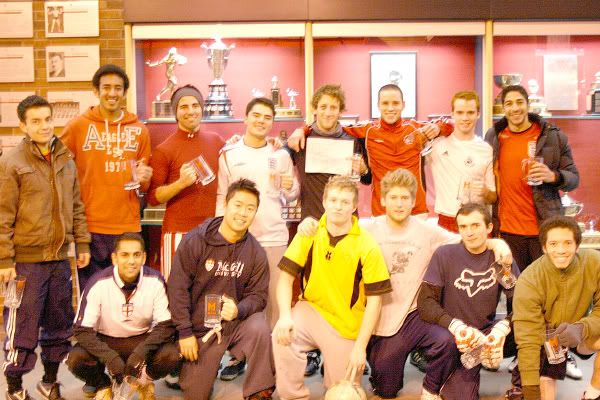 Men's B - FC 420





Women's B - FUGACITY





Co-Rec A - LUCKY NUMBER 11





Co-Rec B - TEMPTED TO DUTCH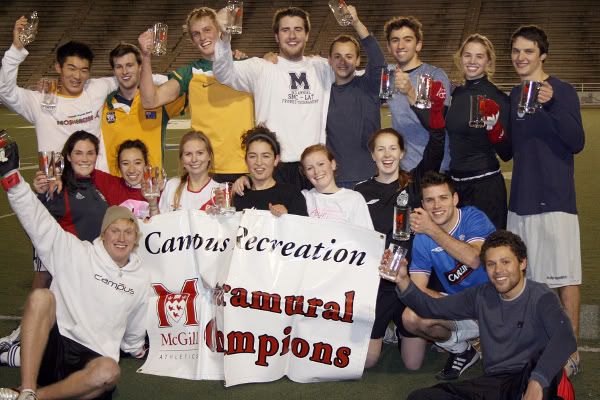 SEASON TOPSCORERS
---
| | | | | |
| --- | --- | --- | --- | --- |
| Men's A | Men's B | Men's C | Women's A | Women's B |
| Nicholas Ormond | Jonathan Bliss | / | / | MJ Lalonde-P. |
| (Happy T. Friends) | (D Dragons) | / | / | (Fugacity) |
| 5 goals | 13 goals | / | / | 7 goals |
| | | | | |
| --- | --- | --- | --- | --- |
| | Co-Rec A | Co-Rec B | Co-Rec C | |
| | Andrew Arrowsmith | Andrew Shakespeare | Saul Strauss | |
| | (Rowdier) | (Flo 2 FC) | (Arch Attack) | |
| | 9 goals | 7 goals | 6 goals | |
| | --- | --- | --- | |
| | / | Kayleigh Youngman | / | |
| | / | (Tempted to Dutch) | / | |
| | / | 3 goals | / | |

.



Greetings soccer enthusiasts!

The Fall 2011 Outdoor season came to an end last week-end, yet again capping two months of intense soccer action and crowning another batch of champions & topscorers!

Bestowed upon each division's team champions were the highly sought-after McGill intramural mugs. As for our season topscorers, a customized-surprised awaits them in the form of our soccer Topscorer shirts! :)

Here are the SEASON WINNERS of the Fall 2011 season! Congratulations to all!





In Men's A, a goal in the second leg of his semi-final match was enough for NICHOLAS ORMOND to best his competition. The Happy Tree Friends striker finishes the season with 5
, capping the season double for his team who also won as division champions.

In Men's B, after an absolutely storming season D Dragons seemed like a clear favorite for the championship title. Eventually, only a penalty-shootout loss in the semi-final round stood in their way, but the team can still be proud of their main striker's achievement. Indeed, JONATHAN BLISS literally eclipsed his competition in the scoring charts, totalling 13
well ahead of PIMPS FC's Muhammad Bilal Tabba (7
).





In the ladies' category, we find evidence of yet another team/player double with Fugacity winning the Women's B league, and placing playmaker MARIE-JASMINE LALONDE-PARSI at the top of the scoring charts! Thanks to her hat-trick in semi-finals, MJ brings her total to 7
and bests Snap Snap Girls rival Sarah Shipley by one. This is MJ's second toscoring title of her intramural career, after winning the CRB Spring 2010 race.





Down in Co-Rec A, we find heartbreak again with ANDREW ARROWSMITH unable to reach the final with Rowdier. Despite his team's elimination at the semi-final stage however, the striker can be quite satisfied with his 9
goaltotal and the third topscoring title of his still young intramural career!!

In Co-Rec B, more heartbreak and yet another scorer reaching the gate of the final, but unable to get it open. Flo 2 FC had a great season, exemplified by the shining form of main man ANDREW SHAKESPEARE. It wasn't enough for the team to get their intramural mugs, but Andrew's 7
(just one ahead of Molson Marauders''s Bradley Dimitroff) earns the striker a well-deserved #1-spot in the scorer rankings. In the female category, congratulations also to Tempted to Dutch's KAYLEIGH YOUNGMAN (3
).

And lastly in the Co-Rec C division, we had a very low goaltotal throughout most of the season and all the way to the final day. Just when the use of the tie-breaker criteria seemed inevitable, SAUL STRAUSS's brace in the match vs. Multiple Scoregasms earned the Arch Attack's striker the necessary lead and goaltotal (6
to best his competition. He finishes two goals ahead of Paul Wilson (GRAD GEOG FC) and Joseph Lee (KUNG FU PANDAS).

That's all for now guys! Our next scorers' update will be about our November 2v2 SOCCER league. Stay tuned, and keep playing the beautiful game!!

.





Hello soccer enthusiasts! Since its inception in November 2009, 2v2 Soccer is back and is ready to begin its 5th edition!! Welcome to the November 2011 McGill 2v2 Soccer Intramurals!!




ONLY 5 MORE DAYS OF REGISTRATION!




The action takes place inside the old McGill SQUASH courts. An illustration of the sport can be found in the resources below.



• Rules Document


• Video Demonstration






FREE AGENT MEETING:



Thursday November 3, 2011 - 17:00


Tomlinson Hall - 2nd floor


McGill Sports Centre (Currie gym) - 475 Pine Avenue West






REGISTRATION INFORMATION:




· Cost:
$80.00 / team
· Players:
2-6 players / team
· Divisions:
Men's / Women's / Co-Rec

A / B / C
· Days/times:
Weekdays 18:30–22:30, Week-ends 11:30–20:30
5-6 regular season games

+

PLAYOFFS
· Registration:
October 1 – November 14
· League dates:
November 15 – December 4
· Rules:
McGill 2v2 (PDF)
Click on the REGISTER NOW button, then on ON-LINE SERVICES

.


Scorers and Team Rankings have been updated for all games up to (and including) Monday November 1st.

.


TEAM RANKINGS updated and finalized for all
competitive/intermediate divisions (MA, MB, WB, CRA, CRB).

.