•
•




















Season Champions


•




•




•





Topscorers


•




•




•





League Records


•




•









No topscorer rankings


were kept this Summer




2v2 Soccer












FUTSAL (5v5)


No topscorer rankings


were kept for


Futsal this semester




2v2 Soccer












OUTDOOR (11v11)
























2v2 Soccer












FUTSAL (5v5)













2v2 Soccer












OUTDOOR (11v11)
























2v2 Soccer












FUTSAL (5v5)













2v2 Soccer












OUTDOOR (11v11)























































































































































































NOVEMBER 2009 - 2v2 SOCCER
SEASON CHAMPIONS
---
| | | | |
| --- | --- | --- | --- |
| Men's A | Men's B | Women's A | Co-Rec A |
| SpanArab Connection | Phat Chicks | JACK | Here for Beer |
SEASON TOPSCORERS
---
| | | | |
| --- | --- | --- | --- |
| Men's A | Men's B | Women's A | Co-Rec A |
| Abdullah Alkhuzai | Guy Northcote | Kelsey Rufiange | Guy Northcote |
| (SpanArab Connection) | (Dagbladet) | (JACK) | (Guy Northcote +3) |
| 101 goals | 82 goals | 57 goals | 76 goals |
| | | | --- |
| | | | Zoe Prowse |
| | | | (Guy Northcote +3) |
| | | | 56 goals |
Champions' TEAM PICTURES
---



Men's A - SpanArab Connection





Men's B - Phat Chicks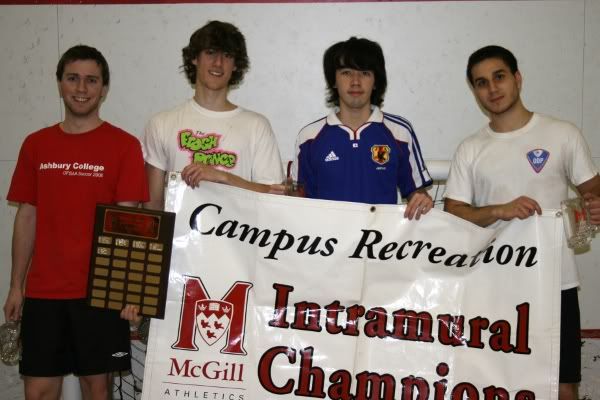 Women's A - JACK





Co-Rec A - Here for Beer



.



Greetings soccer enthusiasts!

Well, we've done it! Our very first 2v2 Soccer season came to an end last week-end, crowning 4 different teams in each respective division and putting an end to a very exciting TOPSCORING RACE. A race which, as we will see, saw our very first triple-digit goaltotal (oh yes, you have read correctly)!

This was a season which, according to what many of you have told me directly, was very entertaining and a welcome novelty in an otherwise soccer-desolate month of November. It certainly was great fun for me to organize and officiate, and based on this month's success I see no reason why we won't offer it again next year!


But let's not get ahead of ourselves: right now we're all here to take a look at the final scoring charts aren't we, particularly the five people who are in the Nş1 position! So without further ado, here are the SEASON WINNERS!

Congratulations to all!





In Men's A, this month's top division was the scene of a great exploit in intramural soccer history. In the introduction, I mentioned a player had reached triple digits for the very first time in a single season, and indeed SpanArab Connection's ABDULLAH ALKHUZAI can really be happy with himself this month. Not only did his team win the 2v2 top-flight division, but he also grabbed the topscoring title with... wait for it... 101
!! WOW! Quite a bit of a distance away from 2nd-ranked teammate Felipe Garcia-Andrade (75
) and Galacticos FC's Stephan Dalkie (75
). In the eternal words of Ali G... Respek!!

In Men's B and not to be outdone, GUY NORTHCOTE did not quite achieve triple digits but boy, he stopped only a few goals short. Indeed with 82
, Guy achieves a very nice loot and grabs the November 2009 MB Topscorer title, well ahead of the likes of Thibaud Sonntag (Thijav, 70
) and Chang Woo Park (FC Corea, 61
)





Down in Women's A, it was an extremely close race all the way to the very last match!! And after dominating this league from beginning to end, the JACK girls took away a well-deserved double: team champions title AND topscoring title for KELSEY RUFIANGE. Besting the competition of teammate Casey Conway (56
) and We Kick Balls' Anna Nathanson (55
), Kelsey's goaltotal of 57
nets her (quite literally) the November 2009 WA Topscorer title!





Finally down in Co-Rec A, the Guy Northcote +3 boys & girls have reason to be satisfied: GUY NORTHCOTE and ZOE PROWSE both won in their respective male & female category (with 76 and 56
). Guy thus increases his global goaltotal to 158 for the season, all the while Zoe ended up scoring more goals than Co-Rec's second-best male (a good way of showing the boys how it's done)! Guy Northcote +3, in its eternally-named glory, may not have ended winning the championship but they certainly entered Soccer Intramurals history.


That's all for now guys! Before we close up shop for the year 2009, our final update of the year will feature photos of the FALL 2009 TOPSCORER AWARDS CEREMONY, including our very first look at this season's special new prizes! Stay tuned!!

.


McGill 2v2 Soccer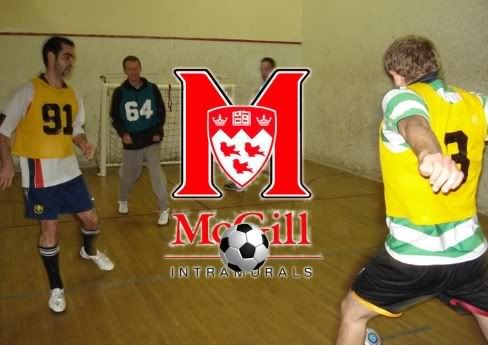 Greetings soccer enthusiasts! Regular season finally reached its conclusion last week-end and we have officially commenced the PLAYOFFS battle! Scorers and Team Rankings have been updated for all games up to (and including) Sunday November 29th.

This also means our topscoring race is in its final stretch, with some pretty crazy goaltotals standing out in our webpages! Check it out for yourselves...


In Men's A, Abdullah Alkhuzai of SpanArab Connection has really taken this league by storm! With 81
after 6 games, he is currently not only the MA leader but our global topscorer as well! With a +24 lead on his nearest rival (Stephan Dalkie of Galacticos FC, 57
) it seems as if Abdullah has got this title well in the bag. Unless a catastrophe of global proportions takes place, that is...

In Men's B, the race is much much closer with no clear winner on the horizon. For the moment, Winter 2009 CRB topscorer Thibaud Sonntag (Thijav, 58
) has a +2 lead on 2nd-ranked Guy Northcote (Dagbladet), and when these two face each other in Monday's quarter-finals the duel promises to be explosive! But let's not count out all the other scorers just yet, at least those still in competition (such as Fantastic 4's double-topscoring champion Maxime Valsamas, with 49
).





Down in Women's A, the JACK girls are back in power! Fresh of finishing 1st in team standings, every indication seems to suggest Kelsey Rufiange (46
) and Casey Conway (45
) will be contending the topscoring title between them in the Women's final. Indeed with only one match left, other team finalists Git R Done will have a tough time putting Rachel Floyd (35
) any higher than the 3rd step of the podium...





Lastly in the Co-Rec division, we seem to have another clear-cut winner before playoffs even begin. Indeed with 65
, Guy Northcote +3's captain (the appropriately-named Guy Northcote) displays an impressive lead on teammate Zoe Prowse (46
) and 3rd-ranked Ariel Prado of Jarkha (36
). I guess we can start prepping that T-Shirt for Guy, 'cause this title looks like a cinch...


That's all for now guys! Stay tuned for our final update next week-end, at which time we will also crown our first 2v2 season champions and division topscorers!!

.


McGill 2v2 Soccer


Greetings soccer enthusiasts! Time for our first look at the 2v2 scorer race!
Scorers and Team Rankings have been updated for all games up to (and including) Saturday November 21st.

Would you believe it? Little over a week passed since the league's beginning and we have already reached the mid-season. Not only that, but our topscorers are currently totalling 30 goals... in EACH of the four divisions! 30+ GOALS!! That litterally means the scoring rate for our most prolific players is, roughly, of 10 goals per game! Something which will surely blow our record of "goals in a single season" through the roof!

Of course, the irony here is that contrary to our usual trend, a high number of goals for a player doesn't necessarily correlate with team performance! Think about it: in terms of individual scoring, it is actually advantageous to be playing each game in as many sets as possible. 5-set matches would give players additional opportunities to rake in more goals than 3-set matches. Unfortunately, that also means less points in the standings...


In Men's A, our current leaders have something in common and its name is: SpanArab Connection. Indeed, not only do Abdullah Alkhuzai and Felipe Garcia-Andrade offer a good explanation of the team's name, but they also top the scoring charts with 34 and 27
respectively. However watch out for Stephan Dalkie sitting between them at 31
: the good form of the Galacticos FC player is also in direct correlation with the team's excellent position in the division standings.

In Men's B, the race is on in FULL FORCE and there's already 7 players with over 30 goals, including many familiar faces and previous topscorer winners. At the very top, we find Sebastian Cornalba of Ballon D'Orgasm with 39
, but boy does he have a slim lead: a mere +1 on Guy Northcote (Dagbladet), and +3 on Scott Dalziel (BK United). And let's not forget about Winter 2007 and Winter 2009 MB topscorer Maxime Valsamas (Fantastic 4, 35
), Fall 2007 MB topscorer Hyun-Jin Kim (FC Chon Nom, 34
), and Winter 2009 CRB topscorer Thibaud Sonntag (Thijav, 32
).





Down in Women's A, the Git R Done girls are dominating the scoring proceedings: Rachel Floyd has taken a solid lead with 30
while teammate Rose Frank follows behind with 24
. However things aren't exactly as rosy regarding Git R Done's league standing, much unlike the situation of team JACK: 9 points in 3 games, no sets lost, and a trio of players still well in contention of the scorer race (Kelsey Rufiange 23
, Casey Conway 21
, Kimberley Conway 18
).





Lastly in the Co-Rec division, we have an almost unique situation: after 3 regular season games it's a *LADY* that's showing us BOYS how it's done!! Indeed, Guy Northcote +3's Zoe Prowse currently tops the scoring charts with 29
! She is closely followed by Ariel Prado of Jarkha (28
) and Jonathan Mark of Happy Feet (27
).


That's all for now guys! Stay tuned for a new update very soon!

.


Scorers and Team Rankings have been updated for all games up to (and including) Friday November 20th.

.