(por)




Interviews (brev.)
(por)


(por)




YOU CHOOSE THE LOGO!
Option a or Option b?


Which logo do you like? The actual one (option b) or the new logo with the symbol of the wolf? (Option a) The wolf is the main character of the club and the "animal" of our fans: Red Wolfs (Lobos Vermelhos).

Help us to choose! Thank you!

Your opinion about this new



Real Morais 2 vs 0 BloodyHell
Memorial Matches - On this day: 18 May 2012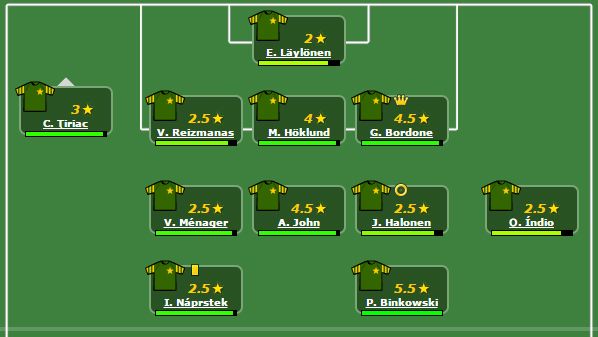 As been a while since Real Morais beat the ukranian formation at Hyorklan Park on that wednesday, 18 of May 2012.
2-0 was the final result with a goal of Jouni Halonen (44 min), now with 34 years old playing for
Mühltroff United, of Germany and a goal of the incredible Piotr Binkowski (71 min). The polish player has now 37 years old and is playing in Bulgaria for Bayern Munchen!!!, a bot team.
On that day, Piotr won the player of the match!

Your opinion about this new



THE SEVEN
After a long walk trough the VI Serie (once again), Real Morais conquered the seventh trophy. Not an easy task as many thought would be. This serie had very good teams and Real had serious injuries from some players. Matthieu van Beuningen is still fighting for the number one scorer - once again, for the third time - will see in the last game against Leoes.
Thank you to the manager Ayhan for the seventh trophy - "Winning for seven times is a remarkable moment, it's a honour to win for this club but we still have one last game. Time to think about that and then lets focus on our way back to the V Serie, which we belong and we should never left." - the words of the couch.

Real Breaking News Lets see, so far, Real Morais scored 95 goals, with Matthieu ahead in the front of the table with 22 goals, followed by Olexiy Tarasenko, from Leoes with less one, 21 goals. 13 matches won, zero draws and no defeats. What can we expect from this Real in the Servie V?
Dinis Piedade Santos "You know, last time we were in the V Serie, felt like a lemon juice without sugar. We could do better and we should do better. We have a different team now, good players, I believe we can do great things when we return there!"



Laimis Gercius's opinion (former coach of Real Morais) "That was a fast running in the Serie, many young players from the Academy has reached the first team, specially Arsénio Machado, who was on the start team last Saturday, for the league. I'm very proud! Congratulations to Real, it is number seven!"

Your opinion about this new